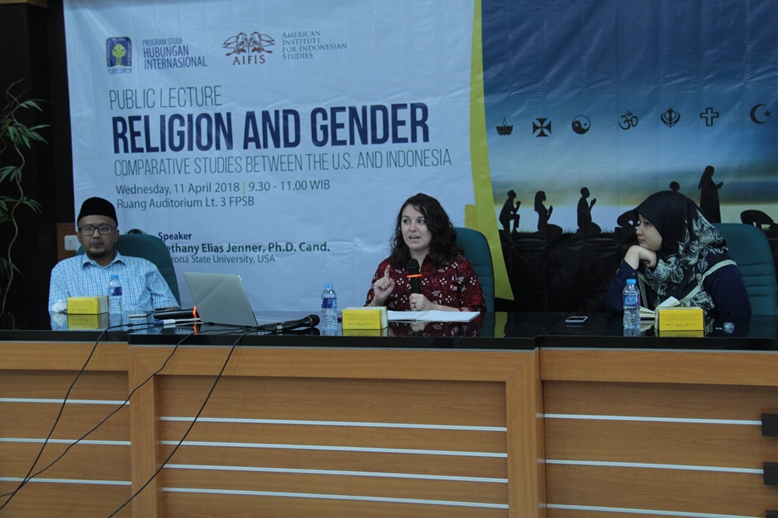 Opportunities for piety and community in women's mushollas and mosques. Demikian materi yang disampaikan oleh Bethany Elias Jenner dari Arizona State University pada kegiatan Public Lecture bertema Religion and Gender (Comparative Studies between The U.S. and Indonesia) yang diselenggarakan oleh Prodi Hubungan Internasional (HI) Fakultas Psikologi dan Ilmu Sosial Budaya (FPSB) Universitas Islam Indonesia (UII), Rabu, 11 April 2018 di ruang Auditorium FPSB UII Lt. 3.
Dalam paparannya, Bethany Elias Jenner banyaj menyampaikan tentang gambaran beberapa tempat ibadah sholat (mushola maupun masjid) yang ekslusif maupun inklusif, seperti Musholla 'Aisyiyah Khusus Wanita di Yogyakarta-Indonesia, Women's Mosque of America & Qal'bu Maryam Mosque (U.S), Ibn Rushd-Goethe Mosque (Germany), Open Mosque (South Africa), Mariam Mosque (Denmark), maupun Inclusive Mosque Initiative (U.K).
Bethany juga menceritakan tentang pengalamannya dalam mengumpulkan data penelitian terkait dengan kegiatan mushola, organisasinya, pemikiran tentang kepemimpinan wanita, Pemikiran tentang gender dalam Islam dan Indonesia, Pemikiran tentang penggunaan mushola wanita dan juga Kekhawatiran dan harapan untuk masa depan musholla wanita. Kegiatan ditutup dengan tanya jawab.
https://ir.uii.ac.id/wp-content/uploads/2018-HI-Kaji-Religion-and-Gender.jpg
518
778
adminir
https://ir.uii.ac.id/wp-content/uploads/header.png
adminir
2018-04-13 09:58:30
2018-08-20 10:04:56
HI Kaji Religion and Gender